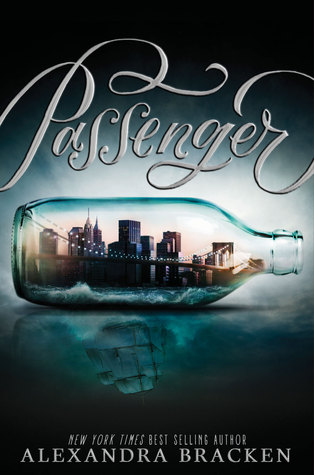 Title: Passenger
Author: Alexandra Bracken
Published: January 6, 2016
My Rating: 3.5 stars/5 
Synopsis: 
In one devastating night, violin prodigy Etta Spencer loses everything she knows and loves. Thrust into an unfamiliar world by a stranger with a dangerous agenda, Etta is certain of only one thing: she has traveled not just miles, but years from home. And she's inherited a legacy she knows nothing about from a family whose existence she's never heard of. Until now.
Nicholas Carter is content with his life at sea, free from the Ironwoods-a powerful family in the Colonies-and the servitude he's known at their hands. But with the arrival of an unusual passenger on his ship comes the insistent pull of the past that he can't escape and the family that won't let him go so easily. Now the Ironwoods are searching for a stolen object of untold value, one they believe only Etta, his passenger, can find. In order to protect her, Nick must ensure she brings it back to them-whether she wants to or not.
Together, Etta and Nicholas embark on a perilous journey across centuries and continents, piecing together clues left behind by the traveler who will do anything to keep the object out of the Ironwoods' grasp. But as they get closer to the truth of their search, and the deadly game the Ironwoods are playing, treacherous forces threaten to separate Etta not only from Nicholas but from her path home forever.
My thoughts from the Vault
I was so very lucky to receive a copy of this novel from Disney-Hyperion. I was very intrigued by this novel's cover, synopsis, as well as all the good reviews that I had seen floating around this book. This novel follows Etta,who is surprised to find herself waking up on board a ship after being forced through time.
After all the hype I had seen for this novel I was convinced that I would love this novel. Sadly, I believe that the constant hype surrounding this novel actually built it up to a level that this novel couldn't compete with. Now don't get me wrong, I didn't dislike this novel, I actually enjoyed it. This book had an interesting take on time travel and how it's done that I haven't seen before in novels.
I enjoyed the plot of the story and the adventure it took me on, but I just wasn't hooked. I found that I could put this novel down at any point and I'd probably be fine if I didn't pick it up again. Because of this, it took me longer than normal to finish it. The characters were great in this story and I did become more invested when I had a ship to sail. 
Though I only gave this novel 3.5 stars, that doesn't mean that it won't be a 4 or even 5 star novel for you. I would recommend this novel to anyone who enjoys time travel stories as it was a great concept and different to anything else I've read.